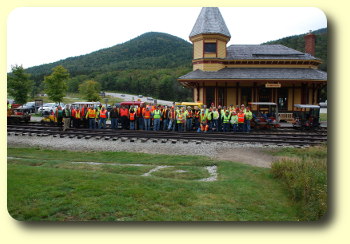 (Sept 12, 2010) Dave reports that the CVRTC held their annual CSRR Crawford Notch Motorcar run today. While the weather was giving the group a little misting while putting the cars on in the early morning, the day turned out quite well for all. We even had the sun come out while we had lunch at Fabyans. Twenty-six cars attended the run, but sadly two broke down and where unable to make it. The group had a total of 67 people making the trip, which included three new members and one member coming all the way from Ontario. Dave would like to thank all of the members who volunteered this summer, helping out the CSRR with a Day Out With Thomas. Without these volunteers, the Notch run wouldn't have been possible.
Dave would also like to personally thank the staff at CSRR who helped us out today, as well as Bill Lee who volunteered his time to help out at all grade crossing from Redstone to Hazen and back. A heart felt thanks also goes out to Gordon Wallick who helpd pilot the group, and to Nancy, Stacie, and Roy who helped out with the paper work in the morning.
And lastly, thanks all of the motorcar operators and crew, who made this a safe and accident free ride. While the rails were wet and we had some unexpected traffic, it shows that we are all safety conscious. Great Job!
Dave continues, saying "I hope you all enjoyed your day out in the Notch and I will be call on all of you to help me out with Thomas next year." (JWM)