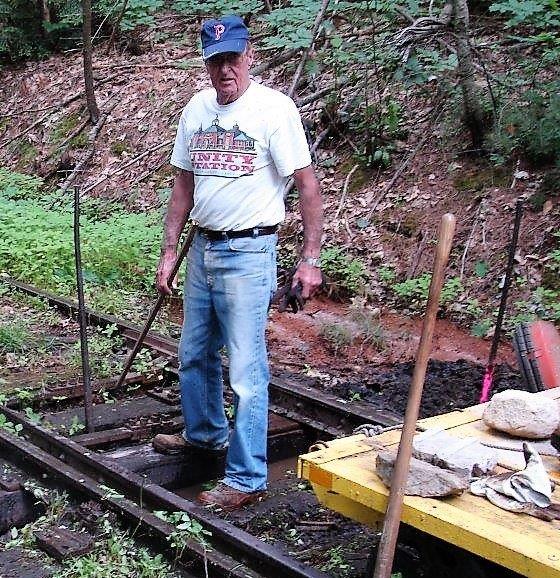 On December 16, 2017, the Club lost lost time member Bill Wheeler. Bill has been a member of CVRTC since 1994. For many of our current members, they might not have had the opportunity to have met Bill or to have seen him around the engine house. But, there was a time before contending with some health issues, Bill was an absolute staple in the ranks of CVRTC.
The projects Bill had been involved with, are to numerous to list. I will try to mention several that come to mind for me. The opening of the Wolfeboro line with relentless brush cutting, rebuilding of the Willey Brook Trestle, new roof on Fernald Eng Hse, initial laying of the stone dust on both causeways, the major tree removal of brush off the causeways, initial establishment of Sadie's pool area, multiple club functions and cookouts, opening up the Ossipee line, switch replacement on the Ossipee line, all the bridge decking projects on the Ossipee line, culvert replacement on the Ossipee line, bridge decking on the Lincoln Line, removing, replacing and reglazing all the windows in the engine house, (count them next time you visit Fernald) many Hobo runs, NARCOA runs and CVRTC runs when we did them, you could always count on seeing Bev, side by side with Bill, enjoying the event and socializing with members and the public (both Bev and Bill have been great liaisons for the club) and the first real Television coverage for CVRTC which was the Bill Green Show out of Maine.
Many, many times I would stop by any given area that I new the club was working on, or a project with the state, and there would be Bill, Don Wendel alongside with him, both working away on whatever needed to be accomplished. I want to convey to the membership, when we have a long time member pass away, the involvement, sacrifice and contributions that the particular individual made toward where we now stand as a club. When we look at the line in it's present condition, it's hard to imagine or even recall what it looked like before 6-8 yrs of growth had started to overtake the corridor and the small group of core members dug their heels in and started to make a difference. I can only hope that the younger members who are now involved with the club, will have the same caliber individuals that I had available, to help them and assure them of a long continued existence of CVRTC.
Thank you Bill for the difference you made in my life both inside and outside of the club. I hope you've been able to find that long sought peace.